The only financial institution driven leadership group focused on fulfilling the channel's potential for servicing protection needs
---

---
The FIIC is a consortium of the ABA, The North Carolina Banker's Association in conjunction with Stathis-Mittel and is a leadership community focused on realizing the financial institution channel's potential for fulfilling the Protection Needs of the clients it serves.
The combined efforts of these leaders will enable participants to realize business advantages and affect change in the industry related to protecting client's assets. This group will be comprised of thought leaders from related distribution, manufacturing, and service providers in the financial institution channel. The focus on Protection will include life, health, LTC, and property & casualty insurance.
The FIIC will be a working group consisting of select executives who believe the financial institution channel has the potential to be the most important distribution channel for protection-oriented products in the financial services industry and are determined to be catalysts in fulfilling this potential. The initial consortium (which is still open to additional partnerships) will serve as the Advisory Board of the FIIC.
The FIIC engagement structure includes the following:
FIIC Advisory Board
FIIC Steering Committee
Best-Practices Peer Group Sessions
Annual FIIC Summit
Protection-Focused Podcast Series
The FIIC Advisory Board and Steering Committee was initiated in the third quarter of 2021 and meets at least three times annually including a live annual gathering of the FIIC community starting in 2022. Your company can be part of this leadership peer group. Due to the significant gap in insurance advocacy in our industry we expect to gather the top leaders of insurance focused executives in our channel. With the combined leadership of the advisory board, an ample data base from the preceding ABA organizations, and the resources of Stathis-Mittel we have generated robust participation. This council is also charged with the nomination and approval process for several annual financial institution insurance recognition awards.
Click here for information on the FIIC Annual Summit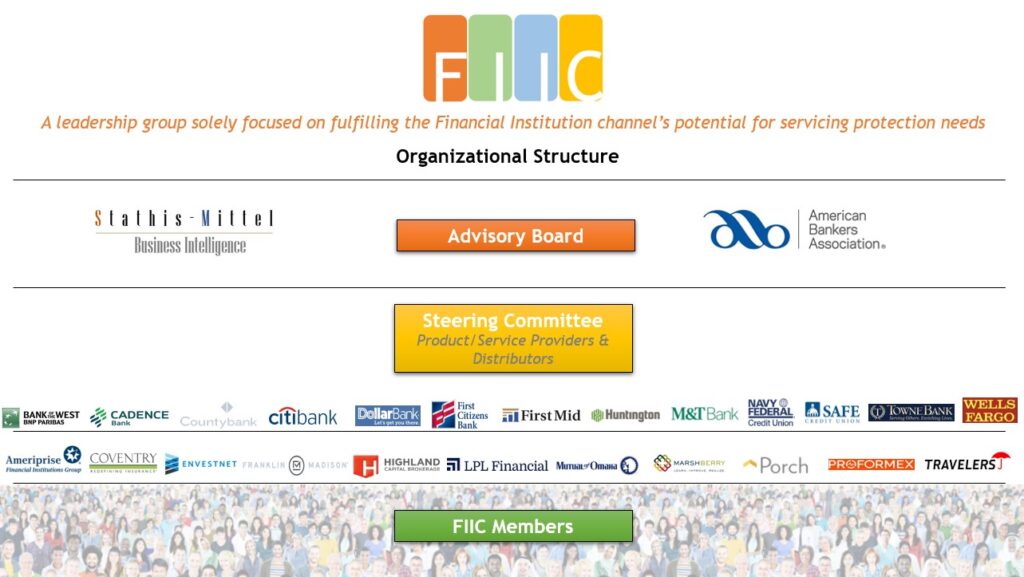 Please contact us for more information.