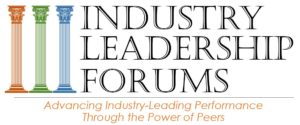 ---
Why You Should Consider Becoming a Sponsoring Partner
of our Industry Leadership Forums
We'd love for you to join us as a sponsor of our forums. We strive to provide a valuable networking experience where participants and sponsors meet like-minded executives that become beneficial industry connections. Here are a few things that make us unique and add value to your ability to make great connections at our meetings:
Each sponsor participates in a "speed dating" session where you get time with every banker in attendance.
We limit the number of sponsors at each meeting.
We'll work with you when crafting the meeting agenda.
You can submit bank executives to be invited.
Sponsors have a seat at the table and participate as peers, solution providers, and subject matter experts in all forum discussions.
We Get Decision-Makers to an Intimate Offsite So You Can Interact with Them
Our job is to get an impressive group of high-level Bank and Credit Union executives to an offsite location for focused productive knowledge exchange and networking that helps them advance their programs and helps our sponsors increase sales by making valuable connections. To make it easy for these executives to attend we pay for all travel and lodging costs associated with their participation. These costs are offset by the support of our sponsoring partners.
We enable our sponsors to fly to one location and meet dozens of decision-making executives instead of having to fly around the country to meet all these executives at their locations.
Sponsor "Speed Dating
"
Every Industry Leadership Forum features a Sponsor Speed Dating segment where sponsors spend ten minutes with each bank or credit union executive in attendance. During this segment all bank and credit union executives are seated in small groupings across a series of tables. Each sponsoring company spends ten minutes with each small group of executives to discuss important information of their choosing. (It's typically best if there is a balance between asking the execs discovery questions and exposing them to the benefits of your offerings.) After the set amount of time the sponsoring company moves to the next table of executives. This process continues until each sponsoring company has met with each group of bank and credit union executives.
Contact us today to become a sponsoring partner of our Industry Leadership Forums.
---
Participants in our Forums
---